I Love Art Twin Markers by Jo York
" This time I'm taking a look at these fantastic, super smart I Love Art Twin Markers!"
I Love Art Twin Markers' k

ey features:
The markers have alcohol based inks which dry quickly produce a translucent colour which can be build up in layers to develop colour strength and tone, and to create a more opaque finish.
The alcohol based inks are super-fast drying, which means you can work quickly and build layers immediately with no smuding problems.
Equipped with twin tips, a 2.6mm chisel shaped nib, which I find most flexible and useful, and a 1mm pointed nib for detailing and precision.
I Love Art Twin markers are very versatile, ideal for putting down areas of colour quickly, and suit a whole range of approaches including: drawing, graphic design and lettering, illustratrion and pattern design.
They can easily be combined with other media, either by using alongside or by building up layers in a mixed media approach.
With 80 colours in the range, you have a very flexible and broad colour palette to play with, both by using the colours individually and by overlapping different colours to create new shades.
You will also find blender markers – they are colourless and can be used for blending areas of colour, and cleaning up edges.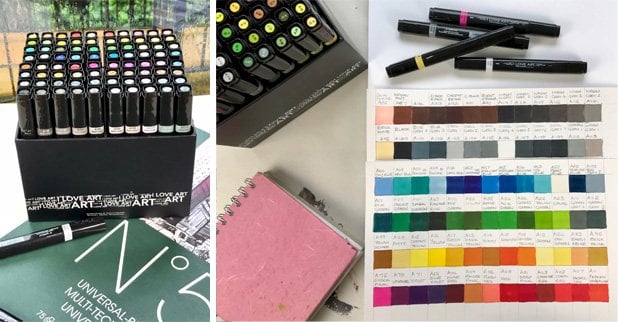 Jo's test and review:
"I began by making a sample swatch of each colour- regular followers of this blog will know that I always do this! As each colour has a code and name, it makes a brilliant way of deciding which colour(s) you are looking for. It's a speedy, relaxing thing to do while listening to some favourite music and makes such a useful quick reference tool for when you are working with the markers in the future!"
"Taking a closer look at the markers above, you can see the two nibs and the basic marks they make. A tiny detail is that they come with the colour sample/ code name and number band on the end with the chisel tip. This means you can grab the right nib with just a quick glance. Both nib types are very durable and really handle working in lots of different styles and approaches, extremely well."
"In a funny way working with markers is like working with watercolour, in that they are translucent in nature, and are probably at their best on a bright white paper. Unlike watercolour, they are best used on a smooth paper or card which isn't too absorbent. To get the best finish, you want the alcohol based inks to sit nicely on the surface, rather than sinking into it, as this will give the greatest clarity and brilliance of colour."
Good papers to use include:
No 5 Multi-Technique Paper (right) and my favourite for more finished pieces,
I Love Art Bristol Board (right) which is 200gsm, and has a pure white nicely reflective surface."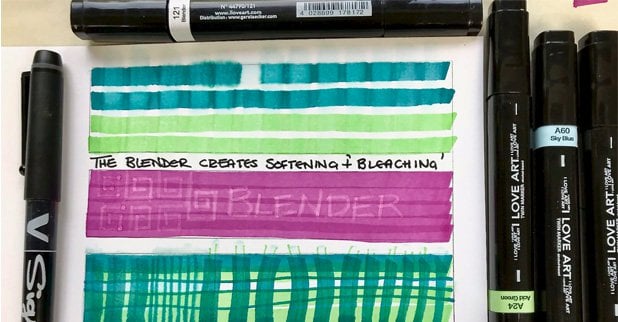 "ILA Blender markers are simply colourless, which can be used to soften and blur the edges of marker work. You can also use them to create a sense of texture and subtle tonal change. They indeed create a 'bleaching out' effect as shown above. Here, a paler, softer version of the colour is produced-by using the nib carefully, you can control very precisely where you want this effect to occur."
Jo's Top Tips:
Use a piece of acetate under your work to protect what's underneath from potential marker 'Bleed'.
Experiment with layering your markers, as the results are always more interesting than single colours and layers.
These markers are great with a range of different media – I particularly like them; over watercolour washes, combined with gouache, and with coloured pencil or fine liner detailing.
 Work on great value No 5 Multi-Techniques Paper or I Love Art Bristol Board. (have a play on acetate too!)
 These markers are designed for the precision and speed needed in Graphics, Illustration, product design etc. Don't ignore their possibilities for working outside, producing roughs for paintings and the like… I've added a handful of my favourite colours to my go-to travel kit!
It's obvious, but really worth emphasising – remember to replace caps tightly to avoid markers drying up!
To read the full review and blog post, with finished works of art, please visit www.joyorkart.co.uk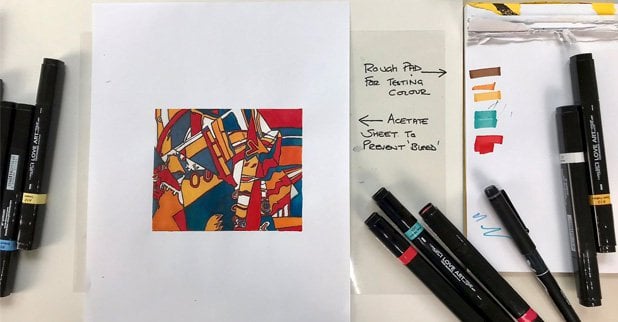 All images are © Jo York www.joyorkart.co.uk
---
Find all Jo's posts published in GreatArt online Magazine by clicking here!
Discover I Love Art full range available online at www.greatart.co.uk/i-love-art and in-store.
The markers featured in this post:
---
GreatArt – your art superstore
Art supplies, ideas and advice for all techniques.
GreatArt offers you art supplies for all techniques from:
traditional fine art painting,
drawing,
sculpture
printmaking,
graphic art,
illustration,
airbrushing,
model making…
We offer an extensive range of stretched canvas and display products for exhibition, all the art supplies required to create your own bespoke canvases, as well as custom framing and mounting services from GreatArt Store. You'll also find hundreds of articles and tutorials to browse in the online magazine.